As search queries get harder to capture with about 54% having three or more keywords, it is no surprise that even well-managed AdWords accounts can miss relevant searches or become out of sync with what your website content. Google's Dynamic search ads (DSA) could be the solution for businesses with large online portfolios wanting to accurately target their core audience and increase conversion rate.
Dynamic Search Ads Benefits
Fill gaps in your keyword coverage
Allow Google to crawl website content and match landing pages to relevant search queries
Improve users' experience
Improve CTR through generating suitable ad headline
Allow specific webpage bids optimisation
Advertise extensively different website sections
How DSA Works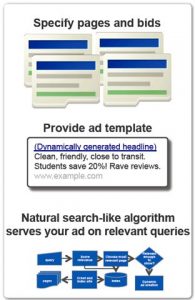 DSA allows Google to scan your web content and deliver quality traffic beyond the targeted keywords. Every time a relevant search occurs, DSA generates an ad template along with a dynamic headline based on this query, leading customers to the most relevant landing page. This provides you with a better coverage across a range of terms that your PPC account might previously have fallen to capture.
High-Quality Traffic
DSA gives you a unique way of targeting new customers. On The Beach, a leading online holiday retailer, increased their bookings by 14% and reduced cost per click by 16%, simply from using this tool along with regular keyword reports.
By using negative targeting the Dynamic Search Ads exclude any unwanted sections of the site, yet never trump any existing keyword-targeted ads. On the Beach's PPC Manager Danny Catapano said of DSA, "It certainly helped to save time researching and expanding keywords compared to previous methods."
Success with DSA
DSA is a complimentary tool to assist your AdWords campaigns, delivering more clicks and conversions with less effort and cost. For more information and tailored DSA strategy, contact Soap Media at 0161 638 0981.