Google's local search results received an overhaul late last month when the search engine giant made a significant alteration. Following the update, local search queries (which used to show a traffic boosting 7 businesses) dropped down drastically to 3. The implications for those dropped from the top results sent shock waves through the business world.
It's important to note this was not a change in Google's algorithms – it was simply an update to how Google displays localised business results. Previously the emphasis was for businesses to break into the top 7 to enjoy increased traffic. With this now drastically reduced many businesses are concerned about the local traffic they have lost and how to make up for the loss.
Google's Local Search Change Explained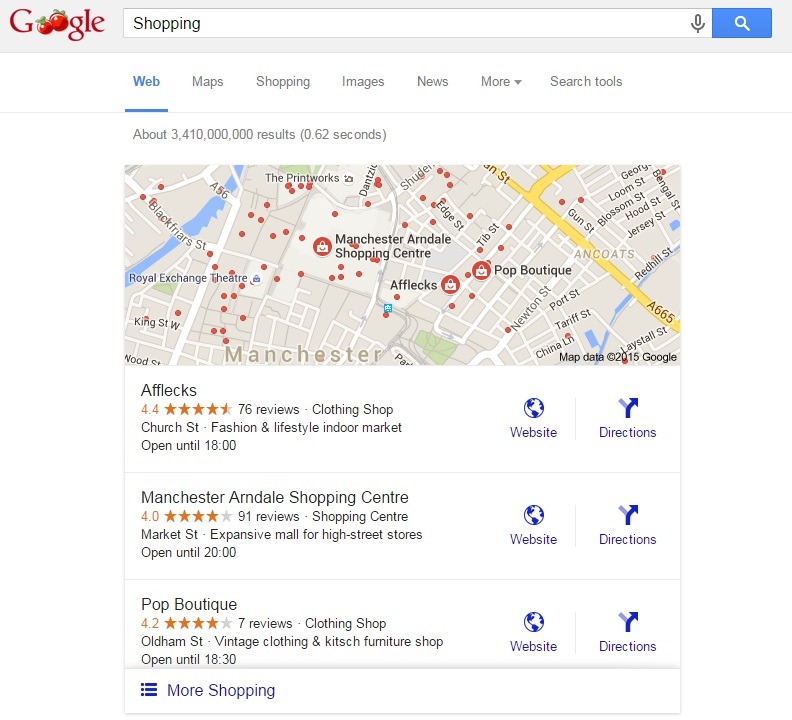 As the example above shows, if you type "shopping" into Google (and you happen to be in Manchester) you'll get the above three examples. Fantastic news if you're Afflecks or the Arndale centre, but for the hundreds of other shops in the city centre it's a cause for concern. Especially those which have lost their top 7 status.
Businesses within the top three positions will continue to enjoy the extra traffic this provides, along with a potential improvement to traffic due to the reduced number of options. For many companies across the world, however, they've suddenly lost out on potentially thousands of customers.
For many other businesses, the top spots may have always proven to be elusive, distant page ranking results they could only dream of. It's a position in the SERPs which isn't beyond the realms of imagination. Follow these useful SEO techniques and any brand can enjoy the benefits of White Hat SEO.
Get Reviews
You must never forget the power of good reviews on the internet. If you're able to boast a 4+ star rating with Google, based on hundreds or thousands of verdicts, you're in with a much higher chance of winning clicks from consumers.
Reviews make your company stand you out against the competition and place reassurance in anyone surfing the internet.
Take Advantage of Organic Search Traffic
Google's algorithms, Pigeon and Penguin, essentially maintain organic and local search results. You can adapt your SEO campaigns to cater for both methods as, ultimately, if you're ranking well for organic then local is going to receive a boost.
Develop Quality Content
You can bolster organic traffic with White Hat tactics – this is a renowned technique SEO experts use. The days of Black Hat SEO are long gone, and now companies need to focus solely on quality tactics.
Good quality copy includes more than grammatically correct paragraphs and accurate diction – thorough keyword research and analysis is part of pushing your way up Google's search pages. This should be achieved in an authentic way, which is typically managed through link building campaigns. Place good quality articles on relevant websites, with strong backlinks, and Google will take notice.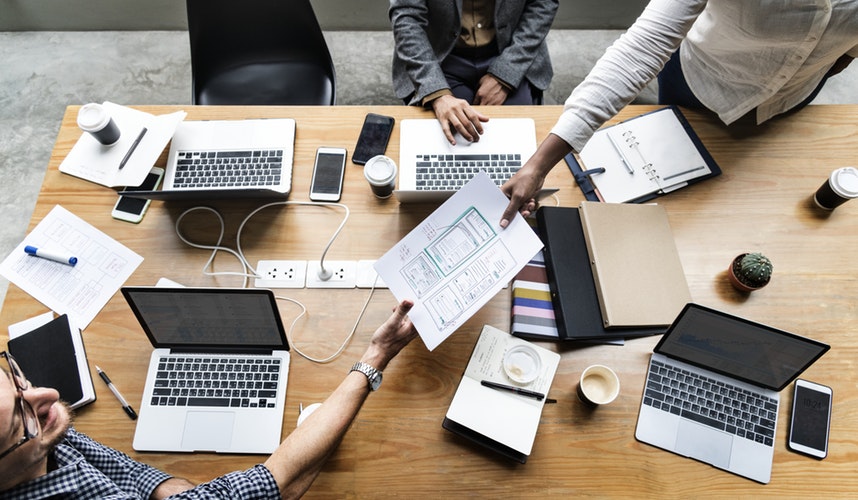 Test Extensively to Find a Solution
Head deep into your analytics and search for solutions to your page ranking problems. Do competitor research, keyword analysis, and a thorough examination of your site to find out which pages are, and aren't, delivering results. SEO is about testing and developing what works in order to capture key search positions.
Don't Panic!
Finally, don't panic if you're missing out on the three key places. Not all uses automatically choose the top positions – many will look around for other options. If you're listed above the fold the chances are you will still receive strong traffic results.
Take advantage of organic SEO tactics to climb higher up the SERPs. If you can land yourself on the first page of search results, you will enjoy significant benefits.