If you require an ecommerce website for your business that's designed and built with the latest cutting-edge platform, you'll probably want to work with an expert in the field. One such expert would be a leading company that's also a partner in that platform, which can provide the most effective services to create the best site for your business and customers.
And so step forward Sylius – an innovative ecommerce platform that has a list of registered partners from around the world. So what can choosing a Sylius partner to create your dream ecommerce site bring that another company can't? This blog explains by looking at the top benefits of working with a Sylius partner.
Why Choose Sylius for Ecommerce?
Sylius is an innovative platform that allows businesses to build top-performing ecommerce websites that are user-friendly, feature-rich and cost effective, while providing a first-rate user experience for their customers.
In fact, there are many benefits of the platform for both businesses and customers. For example:
For your business – Sylius's clever design means it's easier to set up and tailor to your brand and, in turn, get your ecommerce site to market faster. It's also simpler and cheaper to integrate new products, including across multiple devices, to build your site successfully over the long term.
For your customers – Sylius provides a slicker, smoother and faster user experience to increase engagement and boost conversion. This is enhanced by a long list of best-of-breed features to further improve shopping on your site for a wide range of customers. Out-of-the-box features include adding multiple currencies and enabling multilingual solutions.
Key Benefits a Sylius Partner can Bring
Those companies that effectively provide the best Sylius services, and successfully use the platform to deliver top results for ecommerce businesses, can apply to become a registered partner. 
So what are the benefits of working with one?
Extensive Access & Innovation 
Registered partners have access to cutting-edge software, as well as to the talented development team behind the core framework itself. This means working with a partner gives you extensive access to this innovative software too. 
Partners are also given the opportunity to try out the latest advanced ecommerce solutions, from previewing promising new products to testing out rewarding software updates. This gives you access to the best technology for your site, before your competitors. 
Leading Knowledge & Expertise
A registered partner is recognised as an official Sylius expert. They can also be officially trained by the creators of the framework, so have extensive knowledge and unique skills to get the best out of the platform and its features.
A business can therefore hugely benefit from this leading expertise. For instance, a partner can build for them an unrivalled ecommerce site, which has all the necessities to become the top-performer in its sector. 
Inventive Ideas & Solutions
Registered partners don't just work with the clever solutions that the Sylius team creates, develops and provides. They're also encouraged to bring new inventive ideas to the table, which can be developed into customisable solutions to help meet a specific customer's key needs and goals.
This means that a partner can deliver state-of-the-art bespoke solutions that don't just meet your objectives but are unique to your sector – standing out from your competitors and grabbing your target audience's attention.   
Top Speed, Scalability & Support
With their extensive access, quality training, advanced skills and leading expertise, registered partners have the ability to build top-performing sites quickly and effectively, which they can develop and scale up over time. 
This also means a partner can provide a business with the best continuous and cost-effective Sylius support and maintenance – something that's especially important for an ecommerce site because a customer journey can always be improved.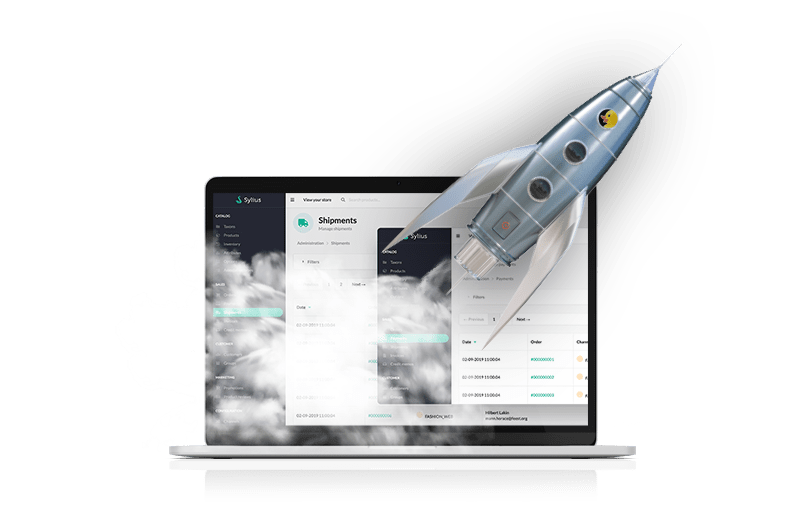 Working with the UK's 1st Recommended Sylius Partner
From leading expertise to unique solutions, innovative ideas to continuous effective support, working with a Sylius partner can bring your ecommerce business numerous benefits. There are a series of companies worldwide that are recognised as recommended Sylius partners. We are proud to say Soap Media is one of them – and the UK's first!
Soap has become the UK's first recommended Sylius partner as a result of our leading expertise and unrivalled success with the ecommerce platform. This has been further enhanced by our highly experienced and skilled team, as well as our seamless development processes. 
If you feel inspired to have such a unique digital marketing partner build a new cutting-edge ecommerce site for your business, or take your current website to the next level in online shopping, just get in touch with our award-winning team. Or sign up for a free website audit to find out how we can make your site even better. Alternatively, please visit our Sylius service page to learn more about the first-rate services we provide for this world-leading and innovative ecommerce platform, or take a look at our Full Service Digital Marketing portfolio.