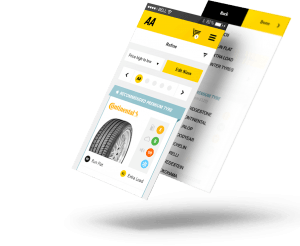 Designing and developing the AA's latest service, a nationwide mobile tyre fitting, has been an incredible experience for our agency. AA Tyres allows customers to place orders online and replacement tyres are  fitted at their home or place of work. A fleet of AA vehicles take the service to destinations across the UK, and we've worked closely with the AA to ensure it all runs smoothly.
Responding to market analysis which revealed drivers were compromising their safety by not checking their tyres regularly, the AA initiated the service to  bring a tyre depot to busy drivers across the UK. It's a visionary service and one which we were keen to promote with our mixture of innovation and industry expertise.
AA Tyres: Visionary Mobile Tyre Fitting
Our award-winning digital marketing agency is based in Manchester and Preston, which is where we developed a cutting-edge website to drive forward the AA's objective – to become the UK's leading mobile tyre fitter.
It was an opportunity to put our web design and development skills to the test and one which we were eager to show what we could do. As a result, the site was developed from the framework up and integrated with mobile-friendly features. This delivered a streamlined package across technical, design, and user experience which can manage the synchronisation of a vast amount of stock, the costs, and availability.
As a result, our bespoke eCommerce services allow AA Tyres to monitor multiple warehouse locations and the mobile fleet to provide real-time updates, with pinpoint accuracy, to customers.
The AA's IT Manager Dave Jones said: "We wanted the project to uphold the high standards and professionalism The AA is famous for. Soap Media's bespoke eCommerce site is an impeccably designed platform which provides a strong user experience with a modern design. The incorporated smartphone features help us stand out against competitors and provide a real-time experience for customers, and this has delivered great results since launch."
Forging a Long-Term Partnership
We're now working with the AA by developing its digital marketing strategy in order to ensure it can develop itself as a leading force in the competitive mobile tyre fitting industry. Through industry leading PPC and SEO practices, we're taking the brand and ensuring drivers across the UK know it's the service to choose.
Through conversion rate optimisation the user experience can be constantly refined, delivering a structure which allows The AA to complete their objectives and continuously build upon their success.
Remaining behind the wheel driving AA Tyres forward is a real privilege for our agency and we believe the work we've contributed to the UK's most trusted brand has helped it achieve immediate success in the industry. Our Technical Director Adam Davis said: "This project is a testament to our unique skillset of marrying creative, technical, and marketing into an integrated package."