We're pleased to announce that we've been awarded the Mobile Excellence Badge from Awwwards and Google. This award recognises both the effort and the talent of our team, which were rewarded and recognised through our mobile UI design after launching our Soap Media 5.0 website.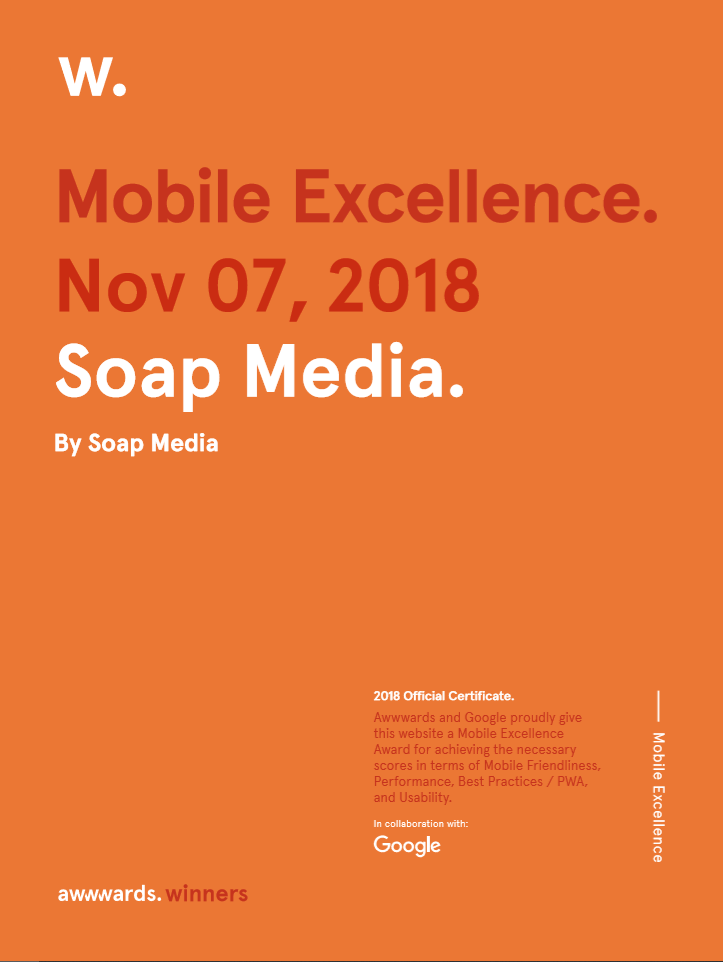 Optimising our mobile footprint is vital to us at Soap, which is why we closely follow Google's standards for the future of web design and web development. This provides a better 'feel' and conversion rates for us and for our customers.
So, why is our mobile website so exciting – and how did we achieve Mobile Excellence?
1. Optimising Mobile Website Performance
Website performance is about user retention. We provide a meaningful interaction for website users by ensuring that we're more than mobile-ready – we're mobile-optimised!
Approximately 53% of mobile website visitors abandon pages if they take longer than three seconds to load. The BBC realised that every, for additional second added to the loading time, an additional 10% of users were lost.
In fact, by simply having a website that loads within five seconds, this translates to sessions that are 70% longer, bounce rates lowered by 35%, and 25% higher ad viewability than websites taking 19 seconds to load.
We made sure to optimise our website for excellent performance, taking into account accessibility, PWA, best practices, and SEO.

Not representative of the real performance. Results may vary.
2. Investing in Progressive Web Apps
When we launched our new website, we ensured that we took advantage of the latest technologies, such as Progressive Web Apps (PWA). As you can see from the image below, when visiting our website on mobile you receive a pop-up asking you to "Add soap-media to Home screen".
This allows for a better user experience – our website is easily adjustable to all devices and easily accessed. Just like our customers, we're future-proofing our website to remove the need for replatforming in the future. PWA are fast, reliable, engaging, and cross-platform compatible, allowing for:
Secure connections with a HTTPS domain.

Improved user engagement.

Higher conversions with a great UX.
A reliable network connection.
3. Passing the Mobile-Friendly Test
An increasingly mobile-first world has led to Google changing their algorithms for a mobile-first search index. Having a mobile-friendly website allows us to provide our customers with a better user experience. Additionally, it also ensures that we deliver solutions to our clients that offer:
As our website is optimised for mobile, it automatically adjusts to smaller screen sizes to offer a great interface and content format. This includes passing Google's Mobile-Friendly Test to offer:
A faster download speed

Mobile-friendly navigation

Text that is larger and easier to read

Page elements and buttons that are touch-friendly

Looking to transform your website for Mobile Excellence? Here at Soap we're always happy to help, simply look through our services and get in touch!