Our hard work at Soap Media is not just reflected in the work we do, but the awards we win, and a series of awards that stand out are those we've won from Clutch. 
After achieving wins for 2018 and 2019 from the leading B2B ratings and reviews platform, we are pleased to announce we have maintained our status in 2020 as one of the UK's top B2B companies for advertising and marketing. 
This follows Clutch naming us a global leader amongst B2B services providers in 2018, and listing us as one of the top PPC management services in the UK in 2019.
The stack of awards means Clutch has now featured us as an award-winning B2B partner and leading SEO & PPC partner for three consecutive years.
Maintaining Five-Star Reviews
As part of the process to name us a top UK B2B company, Clutch representatives interviewed our clients, who took the time to assess our services. They graded us along the lines of quality, attention to schedules, and overall cost-efficiency. 
Once again, the results showed we are on top of our game – maintaining five out of five stars for ratings and reviews across the board. 
Here's what one of our clients said in a recent review: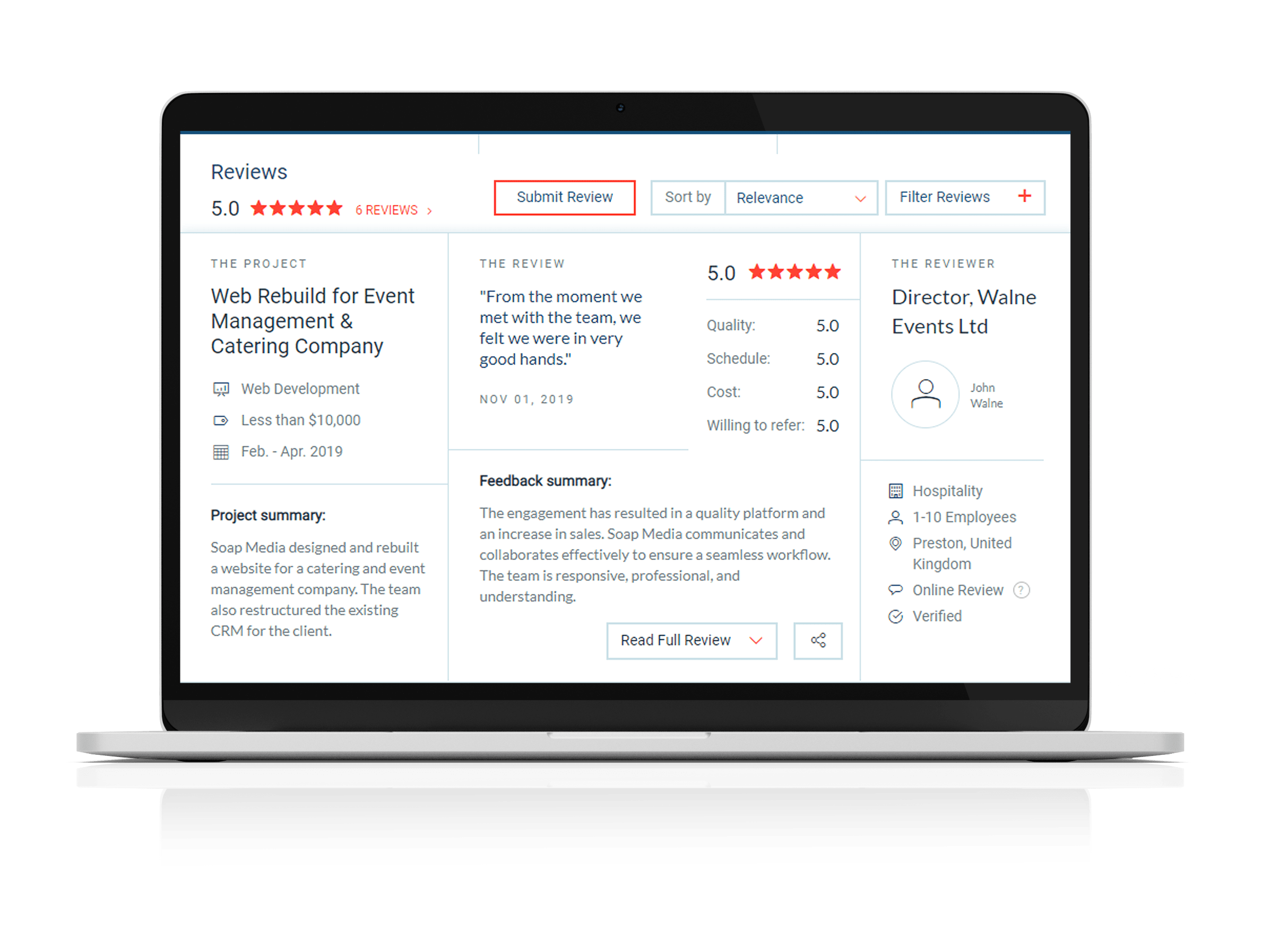 Other reviews we are proud to have received over the last few years include this one from solicitor Paul Wilkinson, the Founder of The Claims Partnership.
He said: "Soap Media have gone the extra mile for us with regard to every aspect of our account – much more than any other agency we have used. In terms of our SEO and PPC management, their approach is comprehensive and sophisticated and one which gives us a real competitive edge."  
Markerle Davis, our managing director at Soap Media, said about our latest award win: "It's wonderful news for Clutch to name us one of the UK's leading B2B companies for advertising and marketing. We have won a lot of awards over the years, but the Clutch Awards means so much because they are based on detailed reviews of what our clients think.  
"In today's saturated B2B market, it's essential to not just stand out to clients for the right reasons, but go that bit further – treating them as a partner, rather than a business customer, to deliver them the best possible results. We always go above and beyond for our clients and this tremendous achievement is a reflection of that. 
"This is the third consecutive year we've won a Clutch Award for being recognised as a leader in our field. It's a fantastic start to 2020 and to a new decade for our highly skilled, dedicated, and hardworking team."   
A Top SEO & PPC Performer
In addition to being an award-winning B2B partner for SEO and PPC, we've been recognised by Clutch's sister site, The Manifest – a platform to grow online presence through business data and rankings. This includes us winning a place on their directory of top performing SEO firms in Manchester. 
We've also now been a Google Premier Partner for over 13 years, constantly delivering impressive results across numerous sectors during that time. 
A good place to start when improving your SEO performance for your business is to carry out a website audit. This involves checking what is, and isn't, working well on your site.
To find out more, speak to our dedicated Soap Media team about having a free digital audit. Or visit our SEO page to learn about the processes we use, which show why we are still an award-winner in digital marketing.