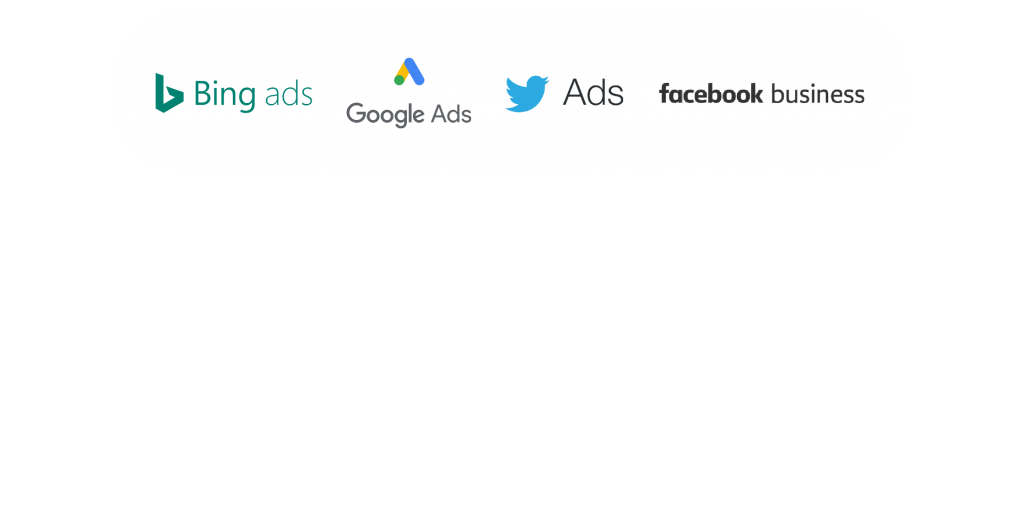 PPC Agency Services
Coherent & profitable strategies
Since we became a Google Partner in 2005, pay per click (PPC) has changed beyond all recognition. PPC management has moved on from being a mostly keyword targeted service into a complex beast incorporating; retargeting, shopping, video ads, mobile apps and social media advertising.
With more devices, personas and customer touchpoints than ever, creating a coherent and profitable strategy can be challenging. We're here to guide you through the jungles of funnels, and seas of data.
Soap's PPC Management
Good paid strategy quite literally pays off
Ensuring that your paid media strategy quite literally pays off, we use a tried and tested 12-step process to engage your needs and produce a workable, tangible outcome.
Constant refinement is key to a successful PPC campaign, and we'll be periodically updating your strategy based on what your data is telling us.
Audit & Objectives
We take time to understand your business and objectives and work through your existing PPC accounts and analytics. This allows us to uncover what's working (and what's not) and to provide detailed analysis and action points.
Competitor Analysis
Using various intelligence tools, we dissect your competitor's campaigns looking for what we can learn about their strategy to uncover some quick wins and benchmark your business in the paid space.
Identify Personas
A key aspect of a successful paid search campaign is to ensure relevance to the audience. We work with you to create customer personas that inform our tactics and allow us to create compelling and engaging user journeys.
PPC Strategy
At this point we have a very clear understanding of what needs to be done to benefit the campaigns. We then create a strategy document for you to sign off on - this is our guiding light until the data tells us we need to adapt.
Ads & Creatives
Creating compelling ad copy and creative banners with a strong call to action is crucial to success. Ads need to be highly relevant to the audience and consistently tested and refined to increase ROI.
Keywords & Traffic Sources
We find the right mix of positive and negative keywords that offer high user intent and cost efficiency. Our campaigns are very granular so we can tightly control budget to minimise wastage.
Campaign Build
Whether we are building out your existing campaigns or building new accounts on new networks, our implementation experience is extensive. You will own the accounts and will have a direct relationship with the network.
Tracking & Goals
It may surprise you how many companies are not tracking goals correctly. We will ensure the data we work with is accurate and gives us everything we need to make the best decision on your campaigns.
PPC Optimisation
With a great deal of care we will continually optimise success and weed out poor performing ads, keyword and sources seeking higher engagement and intent. We are often assisted by machine learning and scripts at this stage.
Reporting
We make things easy to understand by producing meaningful data with a narrative that helps us collectively make better decision on the strategy moving forward. We produce weekly and monthly reports with quarterly reviews.
Conversion Rate Optimisation
The performance of your webpages can have a huge impact on your PPC performance. Think of conversion rate as the multiplier. We are constantly testing copy, layout, calls to action and much more to increase this number.
Strategy Review
As we gather more and more data, it may become obvious that some tactics are working better than others. We conduct a quarterly review to see if we need to adjust the strategy based on your objectives and what the market is showing us.
Increase Your PPC Performance
Request your free paid media audit and unlock your PPC potential. We can smash your KPIs, save time and money, gain exceptional ROI, and grow your brand – what are you waiting for?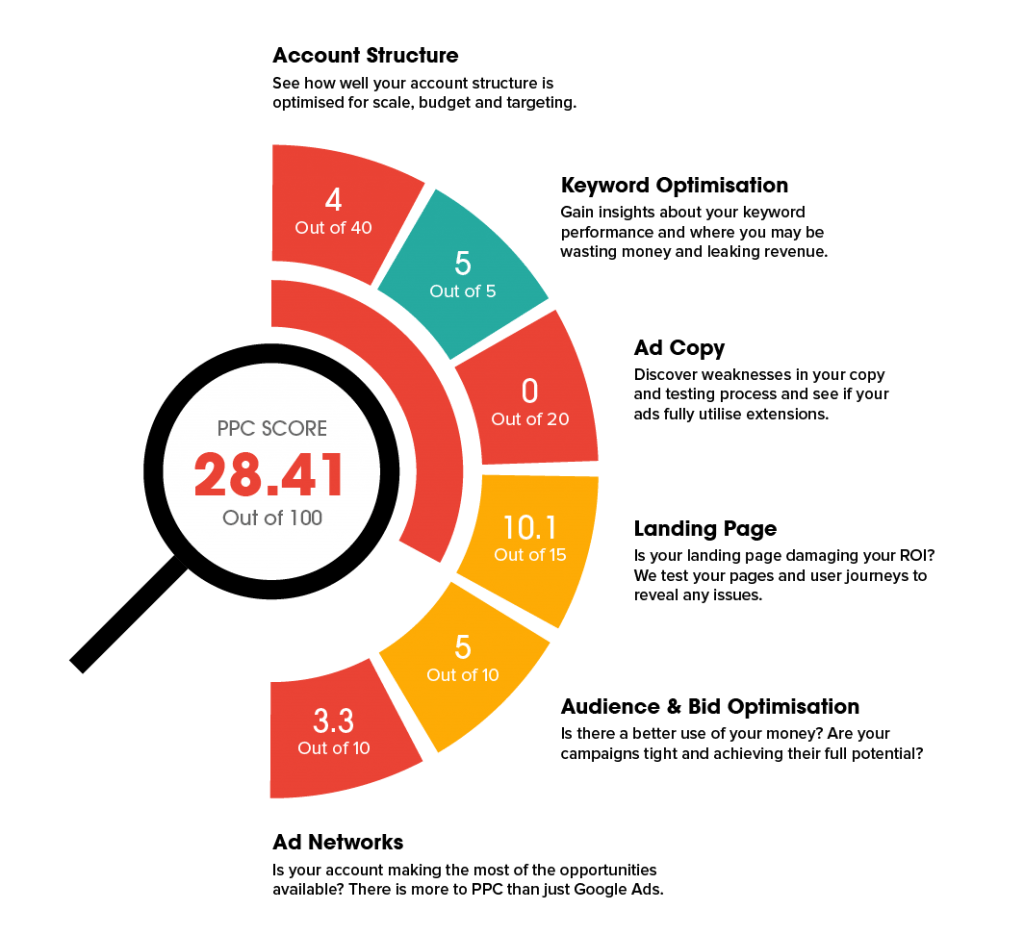 PPC Strategy & Platforms
Our understanding of PPC and our data-driven approach gives you access to an account management service like no other. We understand which PPC channels are more effective and how to accurately create campaigns for each channel. With mobile devices accounting for about 52% of all paid search clicks, we make sure to always stay ahead of the game in digital advertising.
Google Ads Management

We're experts in creating and managing high-performing Search, Display and Shopping campaigns which increase your brand's visibility and profitability.

Bing Ads Management

We get your brand noticed on Microsoft's ever-growing search engine as well as on Yahoo!.

Remarketing

Using well-tested remarketing techniques, we can guide users back to your website by showing them what they're missing out on when they visit pages on the Google Display Network (GDN).

PPC Reviews & Audits

We can tell you what's going well and what needs some fine-tuning as well as where the big opportunities are. PPC is all about growing and we're here to nurture your brand.

Shopping Feed Optimisation

As one of the most important aspects of PPC, we optimise your shopping feeds to make it simpler for Google to display your information. This increases visibility and results in more conversions.

Programmatic Display

We're able to expand the reach of your PPC campaign to those who fit your target persona.

Display Advertising

Using GDN, we're able to create strategic display advertising campaigns that promote your business to your target audience.

Social Media Advertising

Reach your audience with highly accurate demographic targeting and benefit from this low cost method of brand awareness and sales generation.

Rule-Based Bidding

We're able to create bespoke solutions using custom scripts to manage your business rules and tightly control your metrics. No project is ever too complicated!

Attribution Analysis

Customer acquisition is absolutely not a linear journey. Working alongside you, we help you make sense of how SEO, PPC and Social Media affect each other.
Free PPC Audit
Honest & professional opinion
By casting our eye over your current paid strategy, we're able to give you our honest, professional opinion as to what you're doing right. More importantly, we'll let you know where you could improve. Did you know that only 53% of companies tend to track their marketing ROI? Our team keeps a close eye on your campaigns to ensure you have good visibility and ROI.
We look at the following attributes and give personalised feedback using our findings and aligning them with what your business wants to achieve. PPC audits can also reveal high performing keywords that can be used as part of your organic SEO services.
Strong Account Structure

We ensure that your accounts are properly set up to succeed, which involves making sure that your account has a good structure for the following steps.

Detailed Keyword Strategy

We take a look at current keywords and create an in-depth, targeted strategy. This can include expansion of keywords to increase ROI.

Engaging Copywriting

Our PPC strategy also includes ensuring that all copy grabs attention while giving enough information, so that we keep the audience wanting more.

Optimised Bid Strategy

Setting out a bid optimisation strategy makes the most of your money while promoting the best areas or products of your site.

Identify Landing Pages

We suggest pages that would be perfect for your audience to land on for specific campaigns, which will increase your conversion rate and ROI.

Setting Up Ad Groups

Ad groups need to match your campaign; our team ensures that your ad groups aren't too wide reaching, to make sure that the copywriting goes smoothly.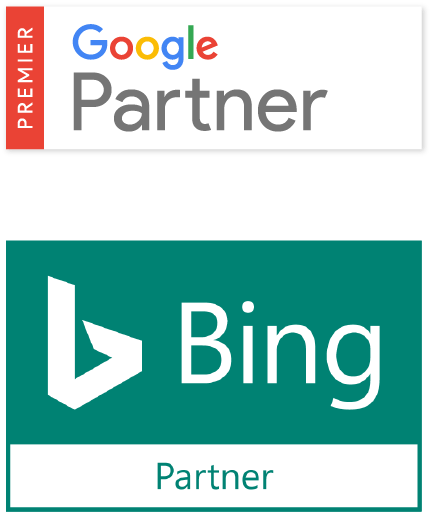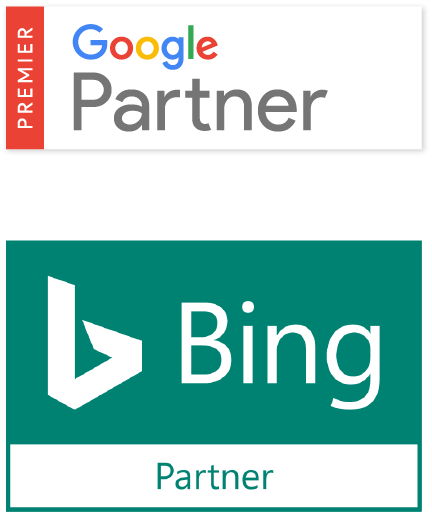 Google Premier Partner & Bing Accredited Agency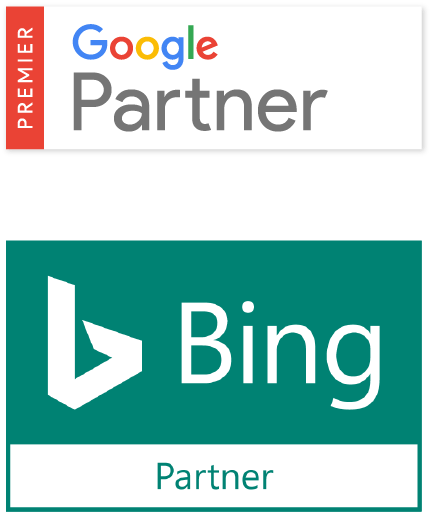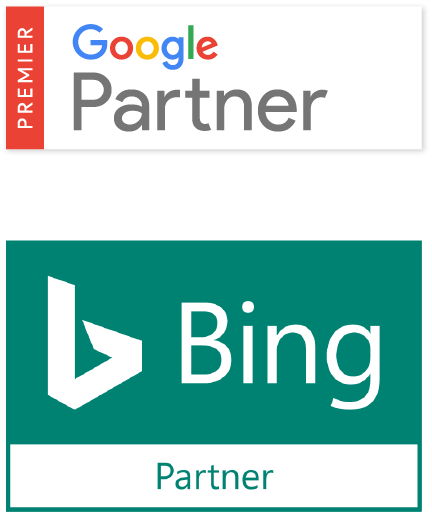 We're extremely proud to be a Google Premier Partner. If that's not enough, we're also recognised and accredited for our PPC management services by Bing Being a premier partner isn't something any old agency can achieve… and we're not just any old agency!
PPC Management Clients
Results are the top of our agenda Key Retirement is a retirement planning specialist which offers independent advice to its customers on subjects such as equity release.
We developed a new website and separate landing pages for Key Retirement to win the business of more customers in a highly competitive equity release market. We migrated their old site to WordPress to remove former content restrictions, and our web development team implemented HTML code improvements and enhanced SEO features. To further improve the company's objectives, we supplied a PPC campaign to expand the reach of the new site and pull in more customers.
110%
Increase in conversion rate
85%
Reduction in lead cost
Soap Media produced a website that not only looks fantastic and was developed and maintained professionally, but also, more importantly they produced outstanding results in terms of generating new leads. A truly excellent service and we are greatly appreciative of the support and help given so far. Thanks so much, it's good to actually find a company that do what they promise in the pitch.
Chris Millington | Head of Marketing
Google Premier PPC Services
What We Could Do For You
If you'd like help with your digital marketing and our work on this project has inspired you, why not get in touch with us to discuss your plans: