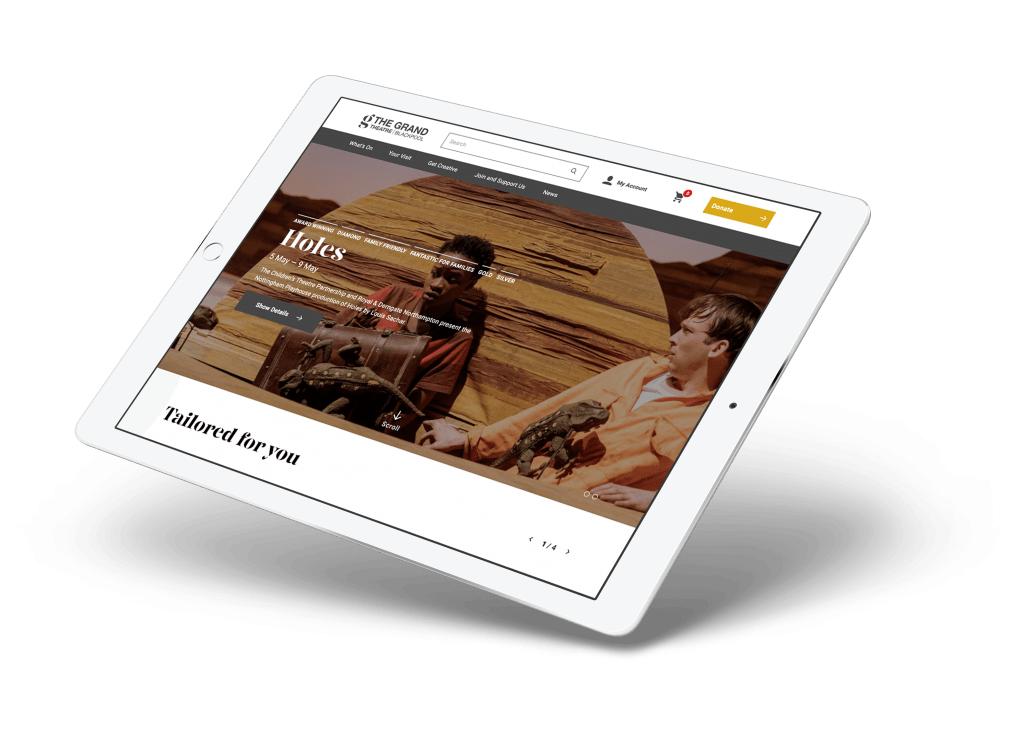 The Brief
To tie in with its impressive 125th anniversary and build on its success as a local theatre, The Blackpool Grand came to us to create the ultimate digital customer experience for local and national theatre lovers - past and present, new and old.
Following us successfully building a state-of-the-art website for the theatre back in 2015, its team now wanted to create and engage a whole new generation of theatre lovers. So how do you attract and immerse new people into The Grand's cultural experience, while further pleasing its current customers?
Provide people with a simple, fast and smooth user experience to give maximum comfort and complete confidence in the site.

Enhance the customer journey to even better serve regular theatre-goers.

Encourage new users to convert to loyal, dedicated customers, so they keep on coming back.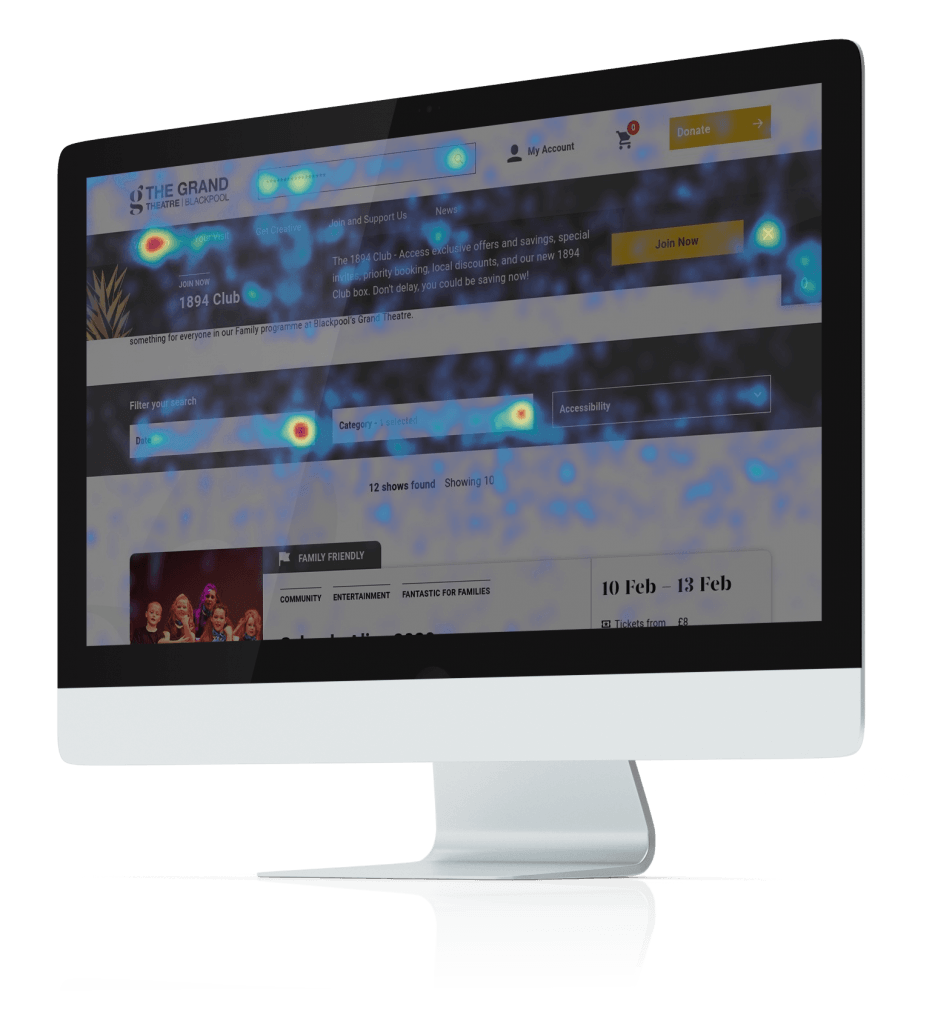 Top Insight to Understand Users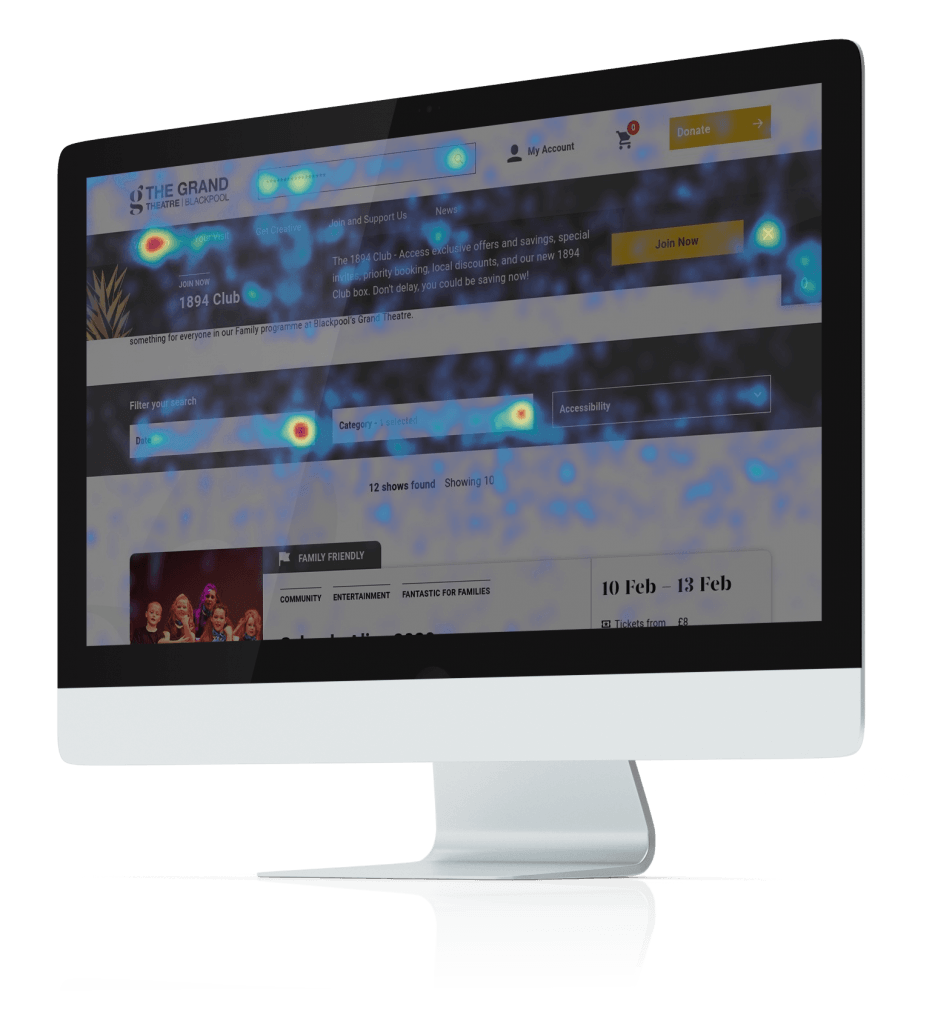 Our extensive research on this project involved gathering detailed information about a user's experience of The Grand's site. In addition to using heatmaps and analytics software, this involved conducting exit intent interviews.
Using exit interview tools, we asked users key questions about what they thought of pages they had visited and the site in general. When their cursor suggested they were about to exit the site, we interrupted the action of them leaving with a specifically selected question. For example:
"We are redeveloping our website and would love to know what additional content or features you would like us to implement?"
The answers better informed us of crucial factors such as user experience pain points, blockers to conversions, and the user's desires. We then used this insight to create the best possible site experience for them.
Trying to understand your users – what they love about your site – and what they don't? Get in touch with our award-winning team to book a free website audit.
World-First Premier Ticketing
TAILORED CUSTOMER EXPERIENCE
When building the site previously, we used the world-leading ticketing system, Spektrix. From selecting show times to finding the best seating, the system allows customers to manage all aspects of their theatre bookings.
To maximise the site's customer journey experience, we used Spektrix again, but this time pushed its capabilities even further – strengthening the first-rate personalised experience it creates.
A key part of this work involved creating a unique on-page members' area, called the 1894 Club, to mark The Grand's 125-year anniversary. The tiered membership club offers members top rewards, such as exclusive offers and discounts to popular shows.
Utilising our expertise in web development, we interfaced with the Spektrix API, querying it to give us much greater insight and information and create a more deeply connected link between the website and the booking system.
We then achieved a world first for the widely-used system. We delivered some groundbreaking work, which had never before been accomplished using Spektrix, that completely transformed and upgraded its capabilities.
This involved tailoring valuable content to members' top interests, according to their membership level. Doing this reinforced the high value of being a club member, all while helping the theatre to successfully upsell and cross sell their offering and build on brand loyalty.
Transforming the Checkout Experience
STREAMLINED PAYMENT PROCESS
Our extensive skills and knowledge in evolving areas, such as CRO and UX, had significantly grown over the years since previously building the Grand's site. So we used this additional expertise to further improve and refine its checkout system.
The site needed to convey the quality experience the brand sells at every touch point. However, users had to complete a number of steps to make a booking. The more steps involved in a checkout process, the longer completing a booking will take, and the more likely a user is to lose patience and abandon their basket. So we aimed to modify the process to create the best possible online shopping experience.
Doing this involved replacing the system with a cutting-edge express checkout. This ensured a much smoother and shorter process for customers, so they can buy tickets even quicker on their computer or mobile device.
Looking to create a premier personalised shopping experience for your customers? Get in touch with us to discuss your plans.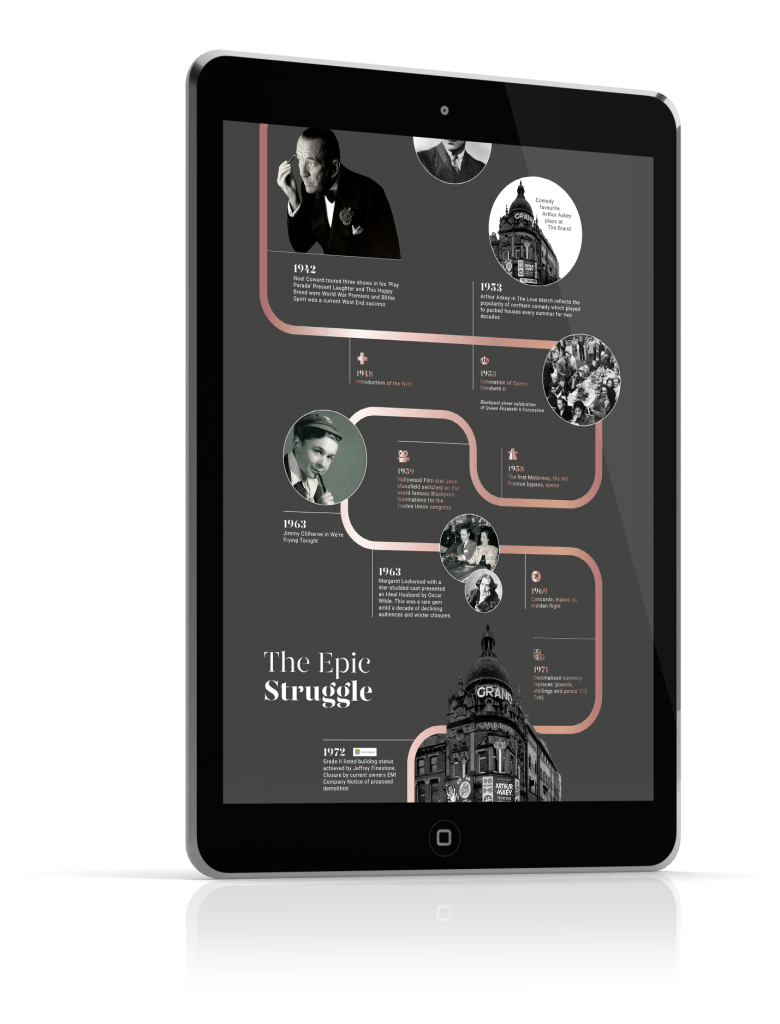 Celebrating 125 Incredible Years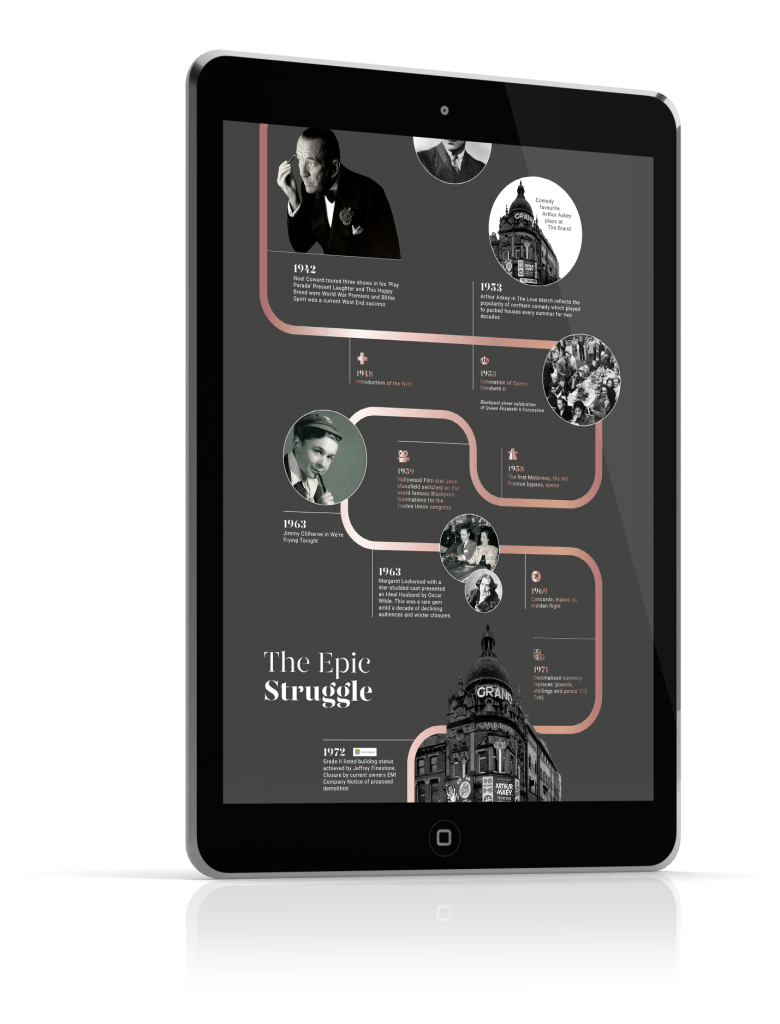 To mark The Grand's 125-year anniversary, we also created a state-of-the-art interactive timeline for the site, marking the theatre's incredible history from 1894 to 2019.
With its slick and visually-stunning design, it allows the audience to learn about The Grand's fascinating past, as key dates, information and images are gradually revealed to them as they scroll down the page. You can learn more about the clever and imaginative thinking that goes into our impressive designs, which keep brands coming back to work with us, in our branding and creative design services page.
Holding Engagement to Build Customer Loyalty
We also aimed to retain engagement with customers after a sale has been made. This involved sending them compelling personalised email automation content, which would appeal to their interests when making their plans to visit the theatre.
For example, a personalised email would be sent to confirm their booking, before they receive a follow-up email a few days before their event. This could inform them – explain what to expect from their Grand experience – or inspire them – suggest places to eat nearby before or after the show.
Exceptional Vision with Cutting-Edge Prototypes
A key part of the site's redesign involved creating a cutting-edge high-res prototype, so The Grand's team could completely understand its structure and accurately visualise how each page would look.
With our know-how and experience in creating leading websites step-by-step from scratch, we knew that this was a much more beneficial approach than creating a traditional wireframe because of the intricate detail a prototype provides.
You can learn more about our first-rate website development processes, which have revitalised brands and generated huge new audiences, on our web development service page.
Ensuring Maximum Consistency & Quality
The Grand Theatre hosts many annual events, from musicals and plays to stand-up comedy, which means the team needs to frequently populate the site with a wide range of content.
So it was imperative we created a quick and simple process for adding new content to the site, ensuring each piece had a consistent high-quality look and feel. To do this, we used our expertise and experience with page builder software to create blocks for content and built in a unique set style and design. This would mean that when a person uploaded new content they wouldn't need to spend time manually changing these elements, as they had cleverly already been set for them. A good modern website will automatically resize on-page media to display across multiple devices. However, given the power and impact visual narratives have on the Grand's client base we took this a step further. We built a bespoke art direction interface so with every image uploaded to the website, they could select the specific section of the image to be shown across a range of different sized devices. This not only provides them with a unique level of control but makes for a faster upload process, and requires less storage space. Got a problem with keeping your site's content quality consistent? Or got an uploading process that's too long and complex? Get in touch with our dedicated team to discuss how we can help.
The Result
The project saw us achieve an impressive increase for the Grand's digital platform. The results speak for themselves:
Find Out What We Could Do For You
This isn't the first time we've worked with The Grand Theatre, and if you'd like to see some of our earlier work for their brand you can view another case study here. If you're inspired by the work we've done for The Grand Theatre and would like to see what results we can create for your business, you can arrange an appointment with the Soap Media team today.
What We Could Do For You
If you'd like help with your digital marketing and our work on this project has inspired you, why not get in touch with us to discuss your plans:
Services We Provide
Perhaps you're interested in working with us in another area? Other services we provide include:
Our Other Experience
We've also completed big projects for companies across a wide variety of sectors that you might want to take a look at.